by Kelley St. Germain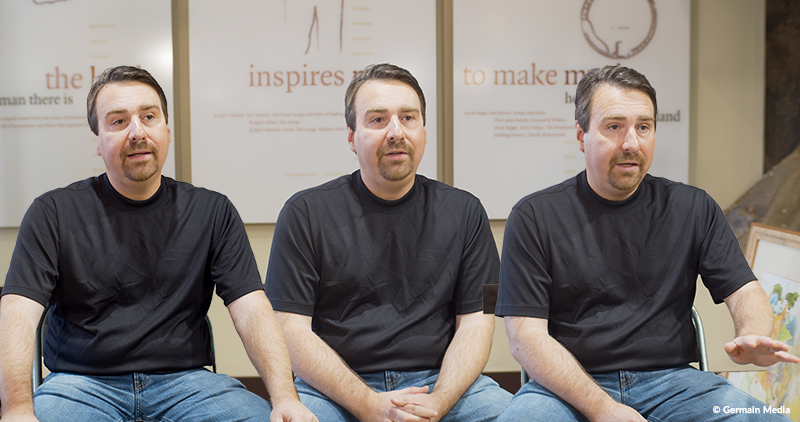 The Ralph Stanley Museum in Clintwood, Virginia.
One of the most fascinating things about G.B. Grayson is understanding his influence upon other musicians. One person that he had an especially large influence upon was Dr. Ralph Stanley. I have read accounts where Dr. Stanley acknowledged this influence by relating how he and his brother Carter avidly listened to G.B.'s music both on records and on the radio when they were small kids.
To learn more about this influence, we decided to visit the Ralph Stanley Museum in Clintwood, Virginia. After making the nearly 3 hour drive deep into the Appalachian Mountains, we arrived. My first impression upon seeing the Museum was . . . WOW! It is housed in a truly incredible old mansion.
Upon arriving, we checked in with Vonda Shortridge, the Executive Director. Extremely welcoming, she gave us free reign to wander the museum and film anything we wanted. In walking around, I immediately noticed that there were numerous mentions of G.B. Grayson throughout the museum. This really surprised me as I had barely ever found even a single brief mention of G.B. in other museums, including some of the BIG music industry ones.
While we were walking around the museum, Vonda let us know that she had been able to reach Ralph Stanley II and that he had agreed to stop by while we were there to be interviewed. We were overjoyed at this great news!
Ralph II soon arrived and turned out to be extremely gracious in sitting down and talking about his father and the influence of G.B. upon him. One of my main questions for Ralph II was why Dr. Stanley had been led to record the 1996 album "Short Life of Trouble: Songs of Grayson & Whitter."
During the ensuing conversation, I learned that Ralph II, who was only 18 at the time, had played in the recording sessions for this album. He shared a lot of great stories and information about his Dad and some of his musical influences that was extremely pertinent to our project.
I can't wait to share his interview with you in our upcoming film!
Dr. Ralph & Ralph II

The Interview

Our visit to the Ralph Stanley Museum

Ralph Stanley Museum