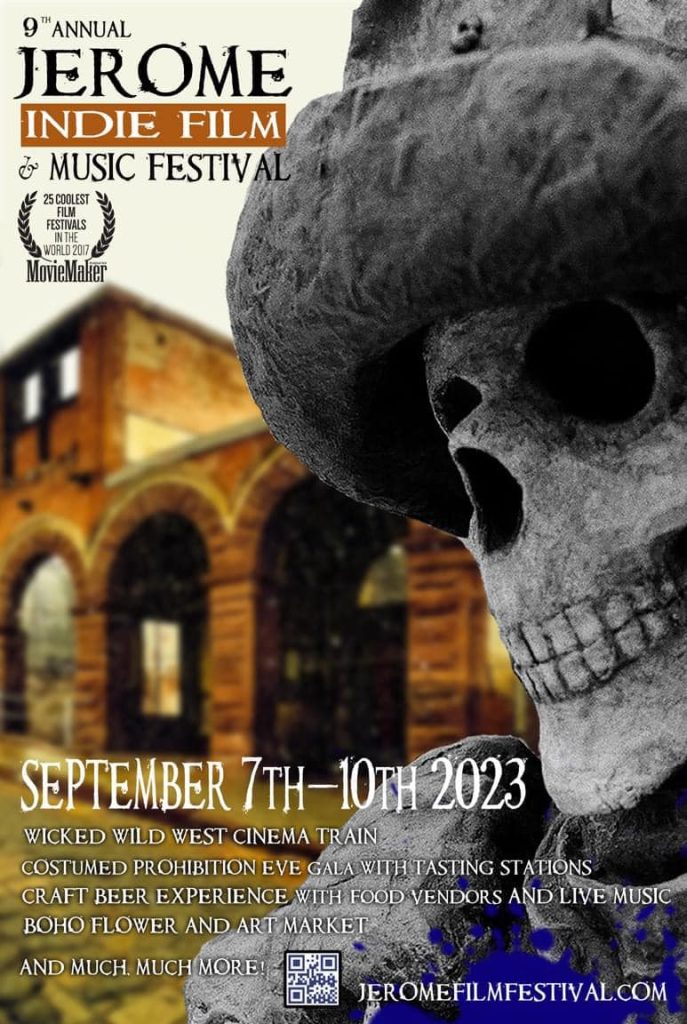 The 2023 Jerome Indie Film & Music Schedule, held in Jerome, Arizona, recently recognized Short Life of Trouble with it's Best Documentary Short Award. This festival, named in 2017 by Movie Maker magazine as one of the 25 Coolest Festivals in the World, featured a wide array of fascinating films.
The Jerome Indie Film Festival describes itself as "edgy, unexpected and are always looking for ways to surprise our guests! Each year we seek high and low throughout Jerome to screen independent films in the most unexpected places. We have screened films on a train, at a haunted gold mine, inside wineries, at surprise hilltop residences, in the basement hallway of a spooky hundred year-old high school, and inside rustic buildings throughout Jerome. With the exception of screening films in the historic Liberty Theatre, we magically create each and every theater from the ground up."
Kelley St. Germain, Director of Short Life of Trouble, was excited to attend the Festival, along with his wife, Lisa.
"Short Life of Trouble has been incredibly blessed to have been invited to 20 Film Festivals all across the country, but this festival was one of the most interesting we have ever attended," St. Germain said. "Jerome is an old (formally abandoned) ghost town high in the Arizona Mountains, near Sedona. The Festival organizers do an amazing job making attending Filmmakers feel welcome. Getting to ride on the 'Wicked Wild West Cinema Train' thru the Verde Valley Canyons is something I don't think I will ever forget."
St. Germain added, "And, being blessed to win Best Documentary Short was a fantastic surprise. We were genuinely happy just to be invited to the festival and really had no expectations of winning, given that the competition was so fierce. Being honored in this way, by our peers, was truly humbling."
"Short Life of Trouble: The Legend of GB Grayson" has had an amazing run," St. Germain further reflected. "At the beginning, we hoped to take this incredible story to 4 or 5 Festivals, but to be invited to a total of 20 Festivals was FAR beyond anything we could have ever hoped for. I am just so pleased that this little film has introduced GB Grayson to people all over the country and given him, posthumously, a little bit of the credit that he so richly deserves for his contributions to early Country Music. I like to think GB is up there right now on top of the Mountain with a big ole grin on his face."
St. Germain concluded, "It was a long and difficult journey making this documentary. We had many hurdles to jump and leads to follow, some of which panned out and some of which did not. Regardless, we kept going and finally got to the Finish Line. I just want to say a HUGE Thank You to everybody who helped and contributed to this documentary. We sincerely could not have done it without each and everyone of you!"